Management Team
Dr. Fernando de la Vega
Chief Executive Officer and Chairman (Founder)
Fernando de la Vega holds a PhD in applied chemistry (Casali Institute, The Hebrew University). Fernando has a strong technical and management background with more than 20 years experience in the industry, performing different successful tasks (R&D management, QA, VP operations and General Manager at Chemada, Tosaf and Cima NanoTech). He is a Co-inventor in more than 11 patent families (nano materials and technologies, alternative energy), author and co-author of many papers and publications, including a book chapter in conductive inks for ink jet printing, made numerous presentations at worldwide conferences. He has performed consultant work in the fields of DOE, SPC and technology management. He is the Co-founder of Nano Polymer, Co-founder and served as Chairman of the NFM consortium (generic research in the nano field in the framework of the Magnet program, OCS, a five year, $25 M project), and Co-founded three R&D consortiums in the EC framework.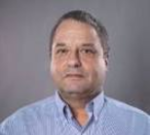 Eyal Shpilberg
Chief Operating Officer
Eyal Shpilberg has over 30 years industrial experience, CEO of technology based companies and Corporate Vice President Consumables Division, of Creo Ltd. (Israel and Canada).
Experience marketing & business development executive, defining and executing vision and business strategy. Expert in leading business development processes, marketing and sales in global markets, leading business negotiation processes though conclusion of transactions.
Experience in team building, recruiting professional staff members and driving teams towards goals, setting protocols and work processes.Extensive technical multi-disciplinary background - physics, software, hardware, materials, biology, chemistry, diagnostics. B.Sc. in Mechanical Engineering, Dean's Honors List and BA in Computer Science, Dean's Honors List from The Technion Institute of Technology.
Evyatar Cohen
Chief Financial Officer
B.A. in Business Management (2000) and was awarded his Master of Law degree from Bar-Ilan university (2003).
Evyatar also worked in the PwC New York branch for five years as an audit manager.
Evyatar is a licensed certified public accountant in both the US and in Israel and a member of the AICPA and the Institute of Certified Public Accountants in the US and Israel respectively.
---